The purpose of this document is to:
1. Provide comprehensive information on the increasing necessity for clear guidance on effectively mitigating sexual and gender-based violence in Nigeria.
2. Suggest ways to take stock of SGBV in general and provide targeted propositions on how to track SGBV incidents in Nigeria.
3. Develop a changing normative framework for institutional practices and behaviours regarding to violence against women and girls at individual and micro-community levels.
4. Serve as a guide to ensure the effective implementation of the project
The Project seeks to accomplish the following objectives, to:
1. Improve access to lifesaving and well-coordinated SGBV response services for survivors and individuals at risk.
2. Engage with relevant stakeholders – police, media civil rights groups etc. - on coordinating information and actors in SGBV incidents.
3. Influence policy and actions of State and Federal government in Nigeria.
4. Improve the delivery of quality SGBV services by providing access to verifiable data
5. Promote male participation in the prevention and redress of all forms of SGBV.
6. Design and implement projects to enable males adopt safe and responsible sexual and reproductive behaviour.
7. Support and accelerate, via education, a change in socio-cultural attitude towards gender equality.
8. Promote awareness on the socio-economic and health implications of rape and sexual assault.
9. To enhance gender equality and the protection of vulnerable groups using prevention-based approach to reduce the incidence of SGBV.
This document provides detailed business case for a proposed project on Sexual and Gender-based violence (SGBV). Among others, It explores current realities, incidents, frequency, types, location, actors/stakeholders, gaps. Likewise, it provides a draft project and a work plan; a theory of change and result chains for the proposed project.
Given the overarching goal of this work is to launch a SGBV project and subsequently secure partner funds for its implementation, a list of potential donor partners is suggested.
Problem Context
The World Health Organisation (2002) defines sexual violence as "any sexual act or an attempt to obtain a sexual act, unwanted sexual comments, or advances, acts to traffic or otherwise directed against a person regardless of their relationship to the victim in any setting, including but not limited to home and work." Sexual gender-based violence (SGBV) exists in different grades. It can be determined by the relationship between the perpetrator and the victim (intimate partner violence (IPV) and non-IPV), or by form of gender-based violence (GBV) act, such as sexual, physical or emotional violence. GBV is a global public health issue, with a higher prevalence in developing countries. The causes of violence against women and girls are complex, including factors at the individual, relationship, community, and societal levels (World Bank, 2019). GBV not only plays a grave role in women's morbidity and mortality, but this type of violence disproportionately affects the health status of women and children.
Gender-based violence infringes against human rights regardless of ethnicity, socio-economic status or religion, and with varying occurrence, form and extent from nation to nation. Since GBV is a complex and multifaceted problem, it cannot be effectively addressed by standalone interventions. Rather, a wholesale strategy is needed (Mulunehet al., 2020). At the global level, WHO states that over one-third i.e. 35 percent of women have faced physical and /or sexual violence at some point in their lives (Figure 1). As in other parts of the world, SGBV is a prevalent social issue in Nigeria that significantly hinders [women's] opportunities and independence. Though the data shows that at least 28% of women in Nigeria between ages 15 and 49 have experienced physical or sexual violence, it's an issue that also affects boys and men. Sexual and gender-based violence includes a host of harmful behaviours that include early and child/forced early marriage, female infanticide, domestic violence, sexual exploitation, rape, sexual assault, sexual abuse, trafficking, psychological violence and adverse cultural practices such as female genital mutilation, child marriage, and vindictive widowhood practices (George, 2015; Onyemelukwe, 2016).
The predicament of female victims of sexual violence ought to be a major concern of governments and society at large, as an intrinsic human rights issue and for its undesirable influence on economic development and poverty (World Bank 2019).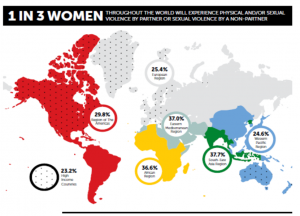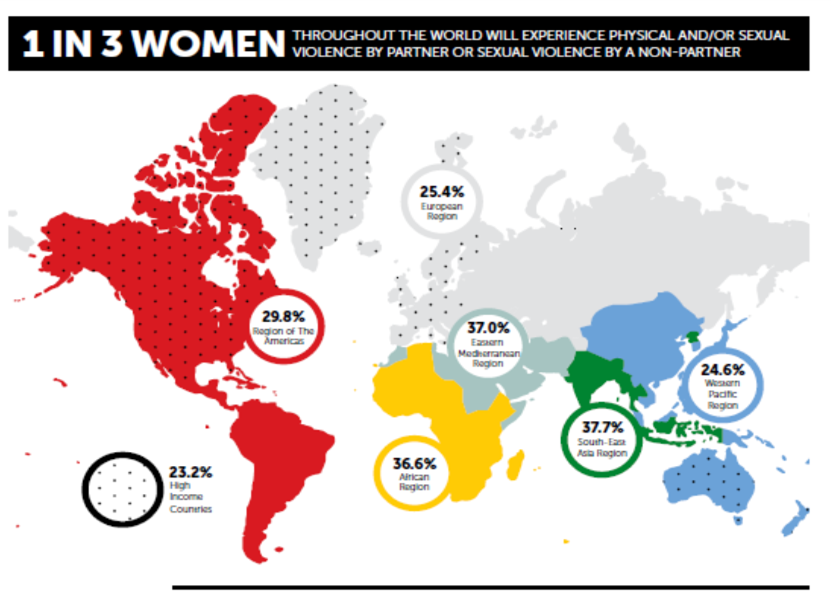 Figure 1. The Global Prevalence of SGBV among Women
Source: WHO (2013)
Global context: Historical, Political, Cultural, and Current
Sexual and gender-based violence is a worldwide phenomenon that knows no boundaries, whether geographical, cultural, social, economic, or ethnic. Historically, black bodies were exploited, but sexual exploitation of the black woman's sexuality was significant in differentiating the experience of slavery for males and females. The colonial systems operated on a network of binary oppositions such as female-male, black-white, infidel-believer or barbarity-civilization. In the wake of colonialism, Africa was left with monotheistic and patriarchal religious systems, which led to the imposition of rigid gender divisions and a subversion of traditional constructions of family and partnerships.
African historical records show that societies were not all patriarchal or necessarily gendered. There are examples of matriarchal rules like the rule of Ashanti in North Ghana and Nubian queens. Heike Becker, in her studies on gender-based violence, has shown that colonization, capitalism and apartheid in Southern Africa caused and exacerbated gender differences and gender-based violence in the African communities like the Khoisan in Southern Africa[1]. .
In the past three decades, violence against women as a policy and research field in sub-Saharan Africa has been classified under "gender-based violence" (GBV). Used initially to describe wartime violence and genital mutilation, GBV has come to now include other forms, such as domestic violence. In 1993, the United Nations General assembly defined violence against women as "any act of gender-based violence that results in, or is likely to result in, physical, sexual, psychological harm or suffering to women, including threats of such acts, coercion or arbitrary deprivation of liberty, whether occurring in public or private life."[2] "Gender-based" in the definition highlights the relationship between violence against women and women's subordinate status in society[3].
Globally, it is estimated that 30% of partnered women have experienced physical or sexual violence with a higher regional prevalence of approximately 37% in Africa, East Mediterranean and South-EastAsia[4]. Evidence shows that violence starts early in women's relationships around the age group 15-19 years. Also, 7% of single women have experienced sexual violence[5]. In the USA, 83% of girls aged 12-16 have been victims of some form of sexual harassment in public schools[6], 20-30% are child victims and about 6.1% are male victims[7]. Also, about 200 million women and girls were found to have undergone some form of female genital mutilation (FGM) in 29 African countries and the Middle East. These statistics show a high prevalence of gender violence among women, followed by children.
Culturally, especially in the African setting, there tends to be a male child preference compared to females, perpetuating gender inequality. This tradition often translates into women having lower self-esteem and promotes a high rate of violence against women[8]. Patriarchy is deeply ingrained in the workings of society. An aspect of SGBV against women and girls is the use of violence in cultures worldwide to preserve females' subordinate status vis-à-vis male. Men often use violence as a means to exert punishment for perceived transgressions of gender roles, to show authority and "save honour." Violence against women is often normalized and justified by society rather than being seen as a criminal act, and victims are often blamed and stigmatized instead of perpetrators.
More so, Gender inequalities are prevalent throughout society, with women being more likely to be illiterate and suffer extreme poverty; their rights are frequently trampled upon, and they have little access to resources and opportunities.
There are alternating definitions on what constitutes sexual violence. Culture plays a crucial role in how certain groups and communities view, perceive, and process sexual acts as well as sexual violence. WHO's description of sexual violence is the use of "coercion" (i.e. force) is often understood with different cultural thresholds (Garcia-Moreno et al., 2006; Adegoke and Oladeji, 2018). This has led to a continuum of transgressions against women. For instance, only the rape of white woman was considered as crime in apartheid South Africa, while the sexual violation of black women was considered a norm. In rural India child married was the custom and more often than not, it was consummated with a lot of coercion. In the same vein, young South African males considered sexual violence acceptable, on the grounds that there is a negative correlation between lack of sex and mental health (Kalra and Bhugra, 2013). Thus, cultural dimensions either augment or mitigate sexual abuse, and higher levels of sexual harassment are predicted to be more pronounced in societies that support the objectification of women
Laws play an emblematic role in indicating socially unacceptable behaviours, as associated sanction may serve a deterrence function. Globally, the goal is not only to prevent but also to eradicate violence at all levels. To achieve this goal, international and regional laws informed by relevant charters, treaties, protocols, and instruments have been adopted for decades to address sexual and gender-based violence and human rights abuse, particularly against women and children. Examples include The Convention on the Elimination of all Forms of Discrimination against Women (CEDAW), the Beijing Declaration and Platform for Action, and the Protocol to the African Charter on Human and Peoples' Rights on the Rights of Women in Africa (also known as the Maputo Protocol).
Since the mid-1970s, many countries have created legislation against domestic violence. In 2016, 127 countries had laws against domestic violence compared to almost none 25 years prior. North Africa, Sub-Saharan Africa and the Middle East are largely where not many countries have prohibitions against physical violence.
The global consensus deems violence against women unacceptable as is reflected in the Sustainable Development Goals. International legal norms and national state norms, including the Chinese domestic violence laws, recognize women's right to live free of violence. National legislation in many parts of the world is increasingly criminalizing violence and providing a range of systems to support victims and their families. Much progress has been made in responding to violence against women, but there is still a long way to go.
In 2006, the "Me Too" movement was created by Tarana Burke to highlight the occurrence of sexual harassment as it targeted women of colour. It became a significant activist movement both offline and online in late 2017 when many actresses opened up about their sexual harassment experiences in the film industry. Since then, the campaign has become a source of solidarity for women who have experienced sexual harassment worldwide. It has evolved into a global movement, generating spinoff hash tags in many languages.
In Australia, the movement led to many cases involving high profile men like Geoffrey Rush going viral online. It also led to a campus campaign #LetHerSpeak, advocating for law reform in Australia. The gag law has now been amended, and the Northern Territory has proposed a fix to the legislation.
In India, the movement gave many women the platform to share their sexual abuse experience on social media. Using the twitter handle @IndiaMeToo, many women narrated horror stories of sexual abuse. Many of these stories were of women being assaulted by men they once trusted – classmates, professors, boyfriends. And due to the private nature of such violence, it is often difficult to prove in court, especially in a country where social censure, police apathy, and brutal sexual crimes take precedence. #MeToo stories remind us that institutions often sidestep accountability; and women, especially in developing countries, still have limited access to justice.
Women yet have the shorter end of the stick in the political space where critical decisions are made. United Nations Women (2018) shows that only 5.9% of Heads of State were women, 5.2% were Heads of Government, 18.3% were Ministers and 23.6 were National parliamentarians. Despite these encouraging advances, the international target of 'gender balance' in public positions established in the Beijing Platform for Action in 1995 is still far from being realized. Furthermore, findings from … (2016) show that there was evidence of sexism, harassment and violence against women in parliament in 39 of 42 parliaments. The research also revealed the prevalence of psychological, physical and sexual violence committed against women parliamentarians, even by members of their own political party. Violence against women in politics is not limited to top profile female leaders, it is even more severe with ordinary women who express opinions publicly. As a result many young women shy away from the political space.
Though poorly document and severely under-reported, there's evidence that men also experience SGBV. SGBV against males can emerge in any setting and cultural context, during peacetime or wartime. SGBV committed during wartime is quite different from SGBV perpetrated during peacetime. Unfortunately, providing legal assistance to male victims of SGBV poses challenges. This is either because of the gender-specific legal definition of rape, which is tailored to women and children, or because same-sex relations are criminalized, and male survivors are at risk of being persecuted for having engaged in same-sex activity[9].
Research shows that men experience higher levels of overall violence from strangers than women as a result of war, gang-related activity, street violence, and suicide; but women and girls are more likely to be assaulted or killed by someone they know, by family or an intimate partner. Studies show that in Australia, Canada and the USA, 40-70% of female murders were perpetrated by husbands or boyfriends, compared to only 4-9% of male murders. Small-scale studies by Heise and Garcia Moreno also show a similar result in developing countries.
Nigerian context: Historical, Political, Cultural and Current
Reports abound on the mass exodus of girls and women from Nigeria to Europe. According to the Interna­tional Organization for Migration (IOM), in 2016, about 11,000 women were conveyed to Italy through the Mediterranean Sea; abou 10,00 more than in in 2014. It was projected that 80% of them would be forced into (IOM, 2017). Going by the Global Slavery Index, Nigeria ranks 32 of 167 countries with the highest number of slaves - 1,386,000; and findings from National Agency for the Prohibition of Trafficking in Persons show that the average age of the trafficked persons in Nigeria is 15.
Regarding sex-based violence, the beating of wives and children is widely endorsed as a form of discipline. Therefore, in hitting their children, parents believe they are instilling discipline in them, much like in the way husbands beat wives[10]. The society is patriarchal in nature and domestic violence functions to enforce obedience with the role of a woman within customary society. Historically, violence against women has been an accepted fact of life. However, it is gradually becoming criminalized in recent times, although still fair culturally acceptable.
According to a World Bank Report (2019), marital rape (i.e. forceful intercourse) is not a considered valid concept in Nigeria. Majority of the individuals in the communities affirms that forced sexual relations are acceptable because a married woman is believed to be owned by her husband. In addition, some groups are of the religious thought that refusing sexual intercourse after martial commitment is a sin. Thus, physical abuse is justified. Furthermore, social myths surrounding women with disabilities opine that having sexual relationship with them brings wealth and power; thus making them susceptible to sexual violence. Other social norms that contribute to sexual based violence against women and girls in Nigeria are:
Sex is a man's right in marriage; it is the wife's duty to bear but not necessarily enjoy it

Women who work all day, especially in the formal sector, are tired at the end of the day, so a man must forcefully take what is his.

Girls are responsible for controlling a man's urges by their dressing and comportment. Thus, victims are blamed for seducing men by their dressing.

Sexual violence is an acceptable way of putting a woman in her place or punishing her.
Currently northeastern Nigeria, the vulnerability of women and girls to SGBV has its foundation in the privation of power and resources caused by polygamy, child/forced marriage and harmful traditional practices concerning widowhood, among others. Just as well, Gender-Based Violence (GBV) has emerged as one of the main embodiments of the insurgency in the region; with adverse consequences for female vulnerability and exploitation (UNCHR, 2020). Generally, the cultural and traditional systems like "dehumanizing widowhood practices, deprivation of property rights of women and girl children, female genital mutilation, child and/or forced marriage, wife chastisement, wife as an inheritance, the preference for sons and human trafficking,"[11] hinders the eradication of sexual and gender-based violence in Nigeria.
In Igbo-speaking areas of the country, customary laws allow for widows to be subjected to severe social, cultural and economic sanctions. They are forced to undergo dehumanizing rights like false imprisonment within their homes and jumping over their husbands' corpse upon the death of their spouses. Male children are also preferred over the female child. This preference affects education and inheritance, especially in the south-eastregion[12]. Male children are allowed to inherit while female children are usually not. Perceptions of domestic violence also vary based on region, religion and class. The Tiv view, for example, is that beating your wife is a 'sign of love' and should be encouraged[13].
Unfortunately, Nigeria's political and legal system also impedes the elimination of sexual and gender-based violence in Nigeria. The Nigerian government has dragged its feet over adopting international instruments on women's rights. The implication is that Nigerian women cannot access these instruments to protect themselves against violence. The customary laws in Nigeria are fraught with an army of discriminatory practices against women, and her statutory regulations also reveal gender bias. For example, Section 138 of the Evidence Act makes it practically impossible to convict a rapist[14]. This section lays the onus on the victims to present proof beyond all reasonable doubt, which can pose a difficult task since such crimes often occur behind closed doors. Section 6 of the Criminal code also legalized spousal rape, as it states, "unlawful carnal knowledge means carnal connection which takes places otherwise between husband and wife."[15]Basically, it states that husbands cannot be guilty of raping their wives.
Currently, Nigeria is still facing a sexual and gender-based crisis, with 30% of women and girls aged 15-49 who have experienced sexual abuse. The ongoing pandemic has only exacerbated the situation. Lack of coordination among stakeholders, poor implementation of legal frameworks, and the discriminatory gender norms have hampered the efforts to address sexual and gender-based violence. The imposed lockdown during the COVID pandemic has led to an increase of 149% of reports of gender-based violence in the country. Since the Uwa case received much public attention, more reports have come to light, and the government has been forced to respond. Protests have occurred both offline and online. The 36 state governors declared a state of emergency and called for a more severe federal punishment for abuse and violence against women.
In 2019, the #MeToo movement took the form of #ArewaMeToo in [Northern] Nigeria. #ArewaMeToo was a platform for many; young girls and boys to share detailed experiences of sexual abuse. Northern Nigeria is an Islam dominated area where underdevelopment insecurity is being battled. This movement unveiled the customs of sexual abuse and impropriety occurring at alarming rates in the region. Accounts of molestation and sexual abuse in secondary schools, informal Islamic classrooms and homes, were shared. In the absence of safe spaces within the community, social media became a substitute that shelters victims from stigma and society's condemnation. The current rape laws in the North are legally prohibitive, making it difficult to prosecute perpetrators of sexual violence.
In November 2019, Nigeria launched its online national sexual offender register. This move was to help members of the public to conduct background checks and identity sex offenders. Unfortunately, these registers are not regularly updated, which defeats the purpose of their existence.
On the 4th of July 2020, the Senate passed the sexual violence bill, which received 11 judges' confirmation. The legislation addresses sexual harassment in tertiary institutions.