The 2019 published report on poverty and inequality in Nigeria by the National Bureau of Statistics is developed from the Nigerian Living Standards Survey (NLSS) (National Bureau of Statistics, 2020). The NLSS, on analysis revealed that about 82.9 million citizens in Nigeria (40.1 percent) of about 200 million are regarded "Poor" in a period spanning between September 2018 and October 2019. Therefore, 4 of 10 individuals living in Nigeria live below the Nigerian poverty threshold. This benchmark is an aggregate of N137, 430 per individual annually. This sum (N137, 430 or $381.75) reflects the financial value of expenditure on food (N81, 767) and non-food items (N55, 633) necessary for a person to realize the basic level of welfare in Nigeria. The non-food items include healthcare, education, housing and housekeeping. In addition, the benchmark puts daily expenditure for an individual in Nigeria at N376.50 ($1.04), at a rate of $1 per N360. Further key outcome of the report shows that about 52 percent of the poor reside in rural dwellings, while about 18 percent live in urban areas. This finding points policy makers to the direction of where targeted and vulnerable groups are likely to be found, as well as areas of attention.

In respect to States, Sokoto and Taraba co-leads with a poverty head count rate of about 88 percent, with Jigawa (87 percent), Ebonyi (80 percent), Adamawa (75 percent) and Zamfara (74 percent) among the chasing pack. Lagos (4.50 percent) stands tall as the state with the least poverty stat, with Delta (6.02 percent), Ogun (9.32 percent), Osun (8.52 percent), Oyo (12.52 percent) in pursuit. The Federal Capital Territory (38.7 percent) and Kaduna (43.5 percent) sits just below and above the national average (40.1 percent) respectively. The absence of data from Borno state due to the insecurity may have undermine findings from Northern region (The Sun, 2020; National Bureau of Statistics, 2020).

A gender-based analysis with education in purview surprisingly showed that male and female share a similar stat in terms of those with access to primary education (19.16 percent, 19.35 percent) and secondary education (12.97 percent, 11.2 percent). Conversely, males (43.14 percent) almost double that of females (24.66 percent) in those with little or no education as shown in Figure 1.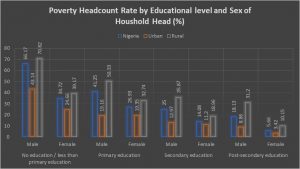 Figure 1. Poverty Headcount Rate by Educational level and Sex of Household Head in Nigeria
Source: National Bureau of Statistics (2020)